Art is my Bridge Between My Inner and Outer Worlds

---
Here is my new       
ARTISTIC MOON AGENDA 2024
I'm happy to announce that I'm going to be the 8th edition of the 'ARTISTIC LUNAR AGENDA 2024' conceived and designed with the enthusiasm and dedication it deserves, which I have been doing every year since I started this project.
This includes a color print of some of my paintings for each month and plenty of space for writing your notes or keeping a journal. It is printed in A5 or A6 with 350 pages on recycled paper.
Just let me know as soon as possible if you want it!
To avoid unnecessary printing and to keep the costs low, I can only print if the order is placed and paid in time.
Contact me by email:    matildecanepagonzalez@gmail.com
---
This video shows my paintings of the series "Serenity of Blue Tones"
---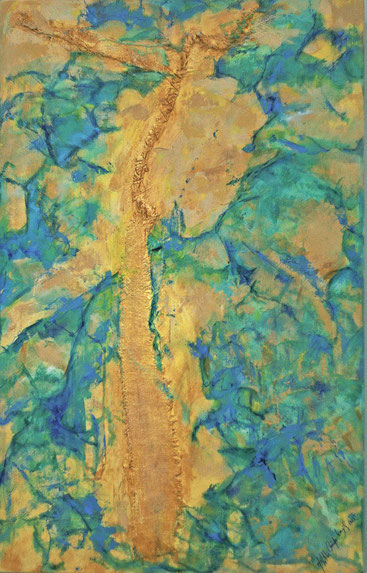 Yellow Turquoise

This is a painting made on canvas integrating different techniques, as a celebration of colors among yellows, blues, turquoises, where contrasting tones dance with each other with agile, loose brushstrokes. The texture that runs through it and composes it as adhered matter in its ascending path like an imaginary river of the many visited, naming some, the Orinoco River, Amazon River, Chuao de Choroni, the Chama River in Merida Venezuela. This painting is part of the realization of a diptych.
Made in 2015 in my studio in Bajamar, Tenerife.



Size: 100 x 65 cm (39,37 x 25,59 inch)
---
My Hanami - Ritual Performance in Berlin 2022
We reach the path of planted cherry trees and leave behind the remains of the wall that once divided the two German states and all of Europe. Thankfully, that time is long gone.
As I walk, I listen to the birds and their various songs, enjoying the intermittent silences that create a unique soundscape. I feel the warmth of the sun on my skin, and the quiet surroundings relieve the tensions of the present moment.
What was once a violent, dividing wall is now planted with sakura - cherry trees, gifted by Japan, a country that knows the horrors of war but also values the beauty of trees and flowers. The blossoms create a symbolic celebration every spring, reminding us of the power of nature to heal and bring joy.
Lying under the domes of the trees and seeing the blue sky through the pink branches and flowers is an experience that opens the heart and the senses. It sensitizes me without words, and it was at that moment that I felt inspired to create a symbolic art performance to celebrate this beauty and the message it brings.
---
ANIMALES BESTIARIO
Five Sculptures by Matilde Cánepa González
1. Generación postrera desde una abeja, 18x17x4 cm, Año 2005,
2. Lalage reposa, 4x15x4 cm, Año 2005,
3. Churuni se prepara a volar, 12x16x4 cm, Año 2005
4. Durmiente lunar, 18x13x4 cm, Año 2005
5. Kayay mira el sendero, 15,5x12,5x4 cm, Año 2005
---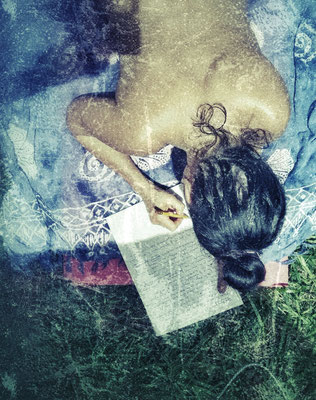 ---
My connection to poetry and fine arts

I work in creating sculptures, objects,
installations, and visual performances. Additionally, I write about creativity, art pedagogy, contemporary art reflections, and poetry.
My early relationship with poetry and literature has inspired me to experiment with my sculptural work as a form of writing, utilizing various materials to create a unique graphism of reliefs and textures in my sculptures, or employing gestural brushstrokes in my paintings.
During 'the Lockdown', I spent every day in my home studio drawing. I would watch the blossoming of spring in my small garden, and in the afternoons, I sought out a nearby terrace to bask in the sun while continuing my drawings.
This routine was my way of coping with the challenges of the lockdown and reflecting on its meaning. Here is are some details of my painting, "Spring 2020".
---
"Cartografía Orgánica"
Traveling exhibition in Berlin 29. 08. - 05.09.2019 in the Galeria Lunasol Berlin
---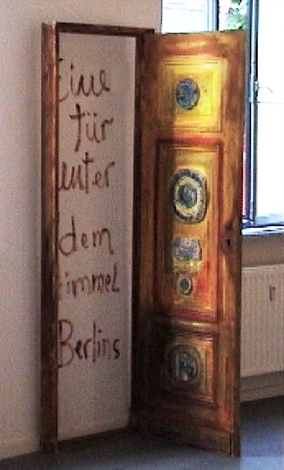 Exhibition 2001 in Berlin
'Religious Syncretism in the Caribbean and Brazil'

Sculpture installation proposal.
Where different materials intervened in its realization.

I worked in the workshop of a German ceramist in Berlin, who generously lent me his space to create a piece. Using pieces of stoneware and oxides, I intervened with an ancient door, and burned it at a high temperature in an oxidation atmosphere using an electric oven.
---
The function of art .... "bringing to consciousness the highest aspirations of the spirit" Hegel's Philosophy of Art, "bringing to consciousness" is a process of realization... by Herbert Read from Art and Alienation.


The Art I do has to do with the cosmic, physical and organic relationship nature. In space, it is at the same time an atom, a cell, a deep breath, an ovule and spermatozoa, in microcosm and in the dust of stars der macrocosm.

I am letting the images appear and they are forming a kind of cosmogony, where I include myself in a geographical area, a continent, a planet within a galaxy barely intuited in its magnitude of universality, which allows me to swim among the fantasy of the infinite, of this presence Lunar girdle bordering body, border of a body.

Reflections on art and its poetics
Matilde Cánepa González

---
Painting with Watercolors
---
The totem is a symbol that represents the mythical connection between humans and nature. This connection can take the form of animals, plants, mountains, rivers, or springs. This knowledge of our connection with nature is deeply rooted in our collective unconscious and the transpersonal.
Unfortunately, in our modern, technologically-driven world, this knowledge is often lost. This loss can lead to a decrease in mental development and individual creativity, as we become disconnected from the natural world.
Totems, as archetypal symbols, form a bridge between the collective unconscious and the development of the individual unconscious in human existence. This knowledge was cultivated by shamans among original peoples, and found expression in the form of symbolic images, such as totems.
Today, artists have deeper access to the content of the collective unconscious, and they can show us glimpses of the original and the transpersonal through their artistic works.
---
---
'Cartografia Orgánica'  Exhibition opened in Santa Cruz
Santa Cruz from 4 to 29 October 2018
Poetry reading, accompanied by the poet Elica Ramos and musician Juan Mesa. Thanks to Pedro Galindo, the dear friend and photographer, for his sensitive and attentive clicks, during the opening of the exhibition.
---